Are you motivated, eager to learn and someone who isn't afraid of change? Do you have your Bachelor's or Master's degree and do you want to (re)start your career? Would you like to discover if working at Accenture is something for you? Several Accenture recruitment professionals and hiring managers, specialized in multiple fields, are looking forward to meeting you on February 5th and finding out whether there is a match for our talent track, which starts April 1st, 2024. Apply now!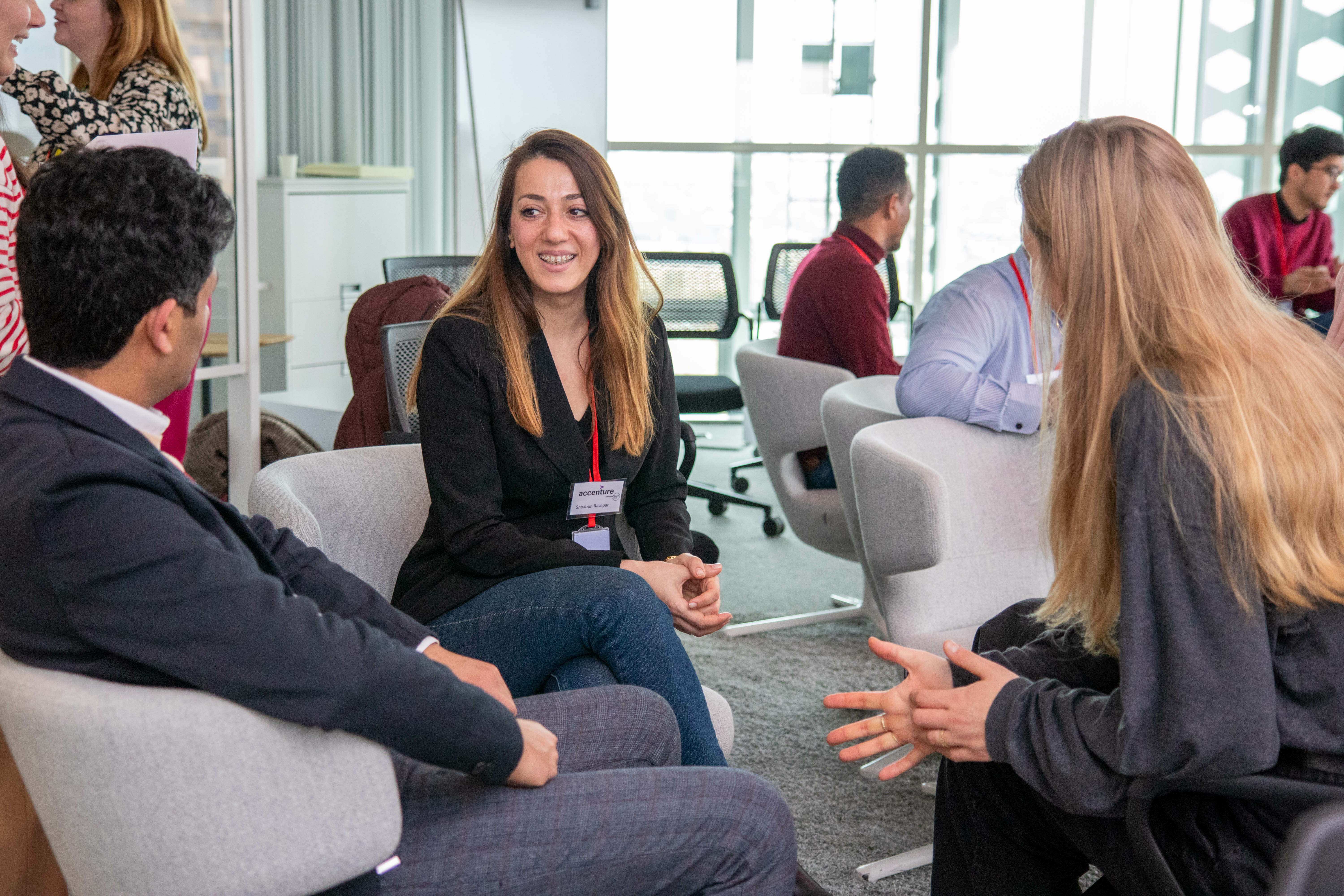 On February 5th , 2023, from 09.00 to 12.00, Refugee Talent Hub and Accenture are organizing a Meet-and-Greet for people who are interested in working in consulting and solving the biggest challenges that our clients face.
There will also be a prep session on January 15th to introduce you to Accenture before the Meet & Greet where you will receive tips & tricks to increase your chances of succeeding during the interviews with the hiring managers and recruiters.
About the Accenture Talent Track
We are looking for professionals in all corners of our business: Strategy & Consulting, Song, Technology, Industry X, and Operations. You will be part of a six-month traineeship that will give you a broad view of what it means to work as a consultant and develop your technical and soft skills through a set training program and innovative projects. Over these six months, you will be matched with a People Lead and Buddy and we will give you the time to ensure you are ready to start a full-time position at Accenture.
About Accenture: [(https://www.accenture.com/nl-en)]
Delivering on the promise of technology and human ingenuity: the post-digital age shows no signs of slowing down, and the need for rapid business transformation has never been greater. Accenture meets clients wherever they are on their paths to change—in every industry across the globe—and partners with them to create lasting value in every direction. Please find more information on our departments below:
Accenture Strategy & Consulting
Envision and execute end-to-end transformation that turns disruption to advantage. Within Accenture Strategy & Consulting, you will find the strategic solution to any problem. You will gain knowledge and advise industry leaders, and always see a way to get ahead of the competition. You will listen carefully to the client and understand competing perspectives. Can you see the big picture without missing the details? And are you a real game changer? Then Accenture Strategy & Consulting will be your fit!
Accenture Song
Design, build, communicate & run meaningful experiences at the intersection of purpose and innovation. Within Accenture Song, you will be an early creator of epic interactive experiences, where you will be combining your business and digital skills. You will work on a big AI project for example or immerse yourself in the details of UX design. Within the Interactive practice you will work on creative marketing plans for big brands and develop a multi-platform solution. Do these ambitions look something like yours? If this is how you picture your future, a role at Accenture Song is a great opportunity to make your dreams a reality.
Accenture Technology
Cloud First: Accenture Cloud First integrates the company's wide-ranging cloud expertise to help clients across every industry accelerate their digital transformation and realize greater value at speed and scale by rapidly becoming 'cloud first' businesses. It enables organizations to look at their processes differently and reimagine every aspect of their business.
Intelligent Platform Services: Within Intelligent Platform Services we are knowledge experts on various technology platforms, such as SAP, Oracle, Salesforce, Microsoft, or multiple newer platforms. Within IPS you become an expert in one of these platforms and advise our clients on how you can exploit the potential of these platforms to unlock value.
Industry Portfolio Delivery: Within Industry Portfolio Delivery you will fulfill a role as business analyst or technology consultant and specialize in a certain industry. You can grow your career in becoming a Technology Delivery Lead for example. Our industry groups focus on: Communications, Media & Technology (CMT), Health & Public Services (H&PS), Financial Service (FS), Products or Resources. Next to these industries you can also become an expert in project management when you join our Project Control Services (PCS) team.
Security: At Accenture Security, we create cybersecurity tailored to our clients' specific business needs. We defend against cyberattacks with proactive, focused, industry-relevant threat intelligence to give our clients the confidence that comes from knowing your business is secure.
Accenture Industry X
At Industry X we like to do it differently. We embrace change. We reimagine. We transform. How companies design, engineer, manufacture, service and maintain their products. We embed sustainability and bring digital into every part of the company's enterprise. We create value by strategy and design, unraveling complexities with our approach as a powerful instrument of change. The way we do so is by designing and engineering products, platforms and services that build bridges between users, technology and business needs. Putting people and planet in the center of everything we do to add value to our clients' businesses. Are you ready to make a difference? The time for change is now!
Accenture Operations
Embedded in our services-based Operations group are colleagues with a real can-do attitude. Your sole drive is meeting the requests of clients in creating a pragmatic approach to recent innovative IT developments – enhancing future agile performance and efficiency. Orchestrating the logistics behind end-to-end processes such as same day free global ecommerce client delivery? Which platform and IT system would be most effective? By working closely together with an international team of professionals, specialized in improving client efficiency, you will find new solutions achieving peak operational performance.
What we need from you
You've finished your Bachelor or Master and are ready to start an exciting career in innovation, design, and/or technology for business
You are proactive, entrepreneurial, and service-oriented
You are very good at planning and organizing
You find new ways to solve complex challenges and may have a background in design, engineering, IT, sustainability, project management, data/analytics, Cloud and other industries.
You have outstanding oral and written communication skills in English and preferably Dutch (A2 level is a plus)
You have a residence permit
About the event
Mandatory Prep Session (online): January 15th, 15.00 to 17.00
Meet & Greet event (live): February 5th, 09.00 to 12.00
Location Meet & Greet: Amsterdam
Documents: You have to upload your CV to your Refugee Talent Hub account by January 1st 2024
Travel expenses will be covered
About the program
Start date 1st of April 2024
Working hours: 24-40
Allowance: 500 euro a month or retaining social benefits
Flexible schedule; working from home or from the office
Intention to offer full-time positions at the end of the track based on individual performance and business standings.
Apply now! Are you interested in working for a company that values your ideas, ingenuity, and determination to make a difference, to solve the challenges Accenture's clients face, and do you want to expand your network? Apply now!
The deadline is 3rd of December 2023, 23.00, but the admission is on a rolling basis, and the application portal will be closed as soon as we have found enough suitable candidates. Do not forget to add your CV to your Refugee Talent Hub account and fill lin the required information on your profile.