Sweco is the place to constantly develop yourself on both a technical and personal level. As an employee there, you work in dedicated small teams, in a broad variety of projects, have plenty of opportunities to learn and find your own way in delivering great results. Sweco is a dedicated partner of the Refugee Talent Hub and offers a complete program (language, hard & soft skills, buddies and more) in facilitating a great chance in finding a stable, secure and above all a great place to work! So, if you want to transform society together don't miss this opportunity!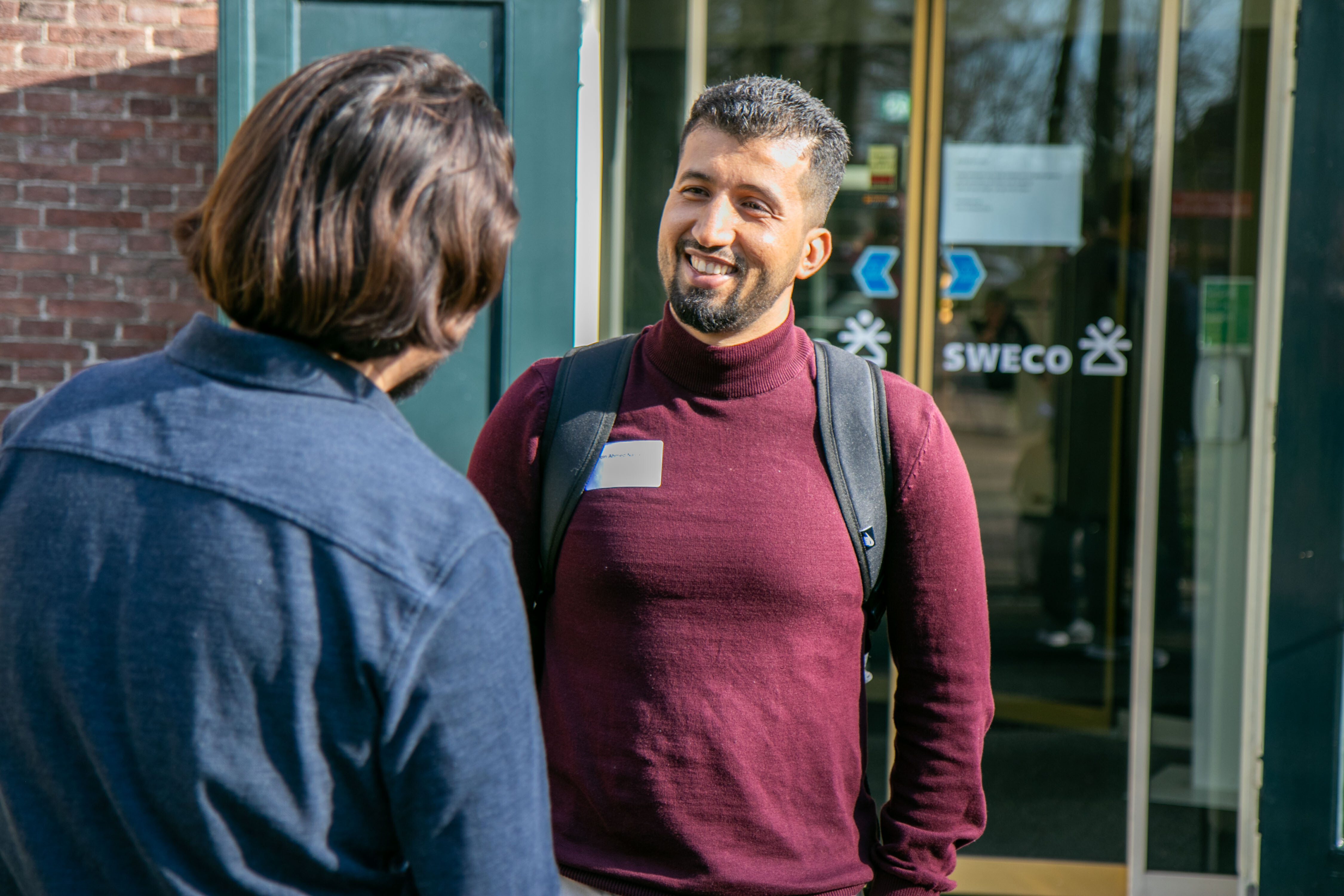 About Sweco
Sweco designs and develops the sustainable societies and cities of the future. Together with customers and the knowledge of 20.000 architects, engineers and consultants, we create smart solutions for the urban area. With an eye for the accelerating power of digitization, we, as Europe's largest architectural and engineering bureau, are committed to a green and more sustainable society. We do this in small teams, with and for each other. Together we make Sweco and only together can we achieve success. The future requires creative brains, advisors who build bridges between tomorrow and today and daredevils who dare to go further. You work with us with your head, with your heart and with guts. In the Netherlands, we are active in 10 locations (and nowadays also 1,900 home offices) from Groningen to Middelburg and from Alkmaar to Arnhem and always close by.
The opportunity
Sweco is interested in meeting talents that have relevant experience and background to the working field. If you are interested, Sweco is open to meeting those who have profiles similar to the profiles down.
Profiles of a BIM modeler/designer, in fields such as:
Energy infrastructure: Engineering and for making architectural drawings and 3D BIM models. Study Bachelors or higher in Architecture, Electrical Engineering, Mechanical Engineering, Applied Physics or similar and language requirement of B1

Rail infrastructure:Designing railways. Drawing with AutoCad and 3D. Study Bachelor in Civil engineering, Electrical Engineering or Mechanical Engineering and language requirement B1

Asset Management: The efficient management, policy developments and realizing various types of analysis based on available data of Civil Constructions and Roads. Bachelor in Civil engineering or ICT and language requirement A2
What we expect from you
You have a status (residence permit ); or obtained the Dutch nationality already (Naturalisatie)
You have excellent oral and written communication skills in English B2 (mandatory) and Dutch (preferable on B1); or English on B1 and Dutch on B2 level;
You can work and think at HBO or WO level;
You don't mind traveling by train to one of our locations (Rotterdam, De Bilt, Amsterdam, Zwolle of Arnhem )
You are enthusiastic and eager to learn
You are a team player and proactive
Interested?
Are you interested and do you think that you have a profile that fits with the information mentioned previously? Sign up as soon as possible if you think that you fit within Sweco! Don't forget to upload the latest version of your CV on our website. The application deadline is at 23:00 on the 31st of May 2023.
Please note that the deadline might be closed earlier if we receive a large amount of applications. So please make sure you register as soon as possible!
We might be reaching out to you by email to fill in additional information and you might get a call so keep that in mind.
Next steps
Potential interesting candidates will be contacted and invited for an informal meet with an employee of Sweco at one of the offices. In case you are being considered for an invitation you will hear around the 6th of June, although you can still be contacted before that time.