AWS re/Start program provides cloud education to refugees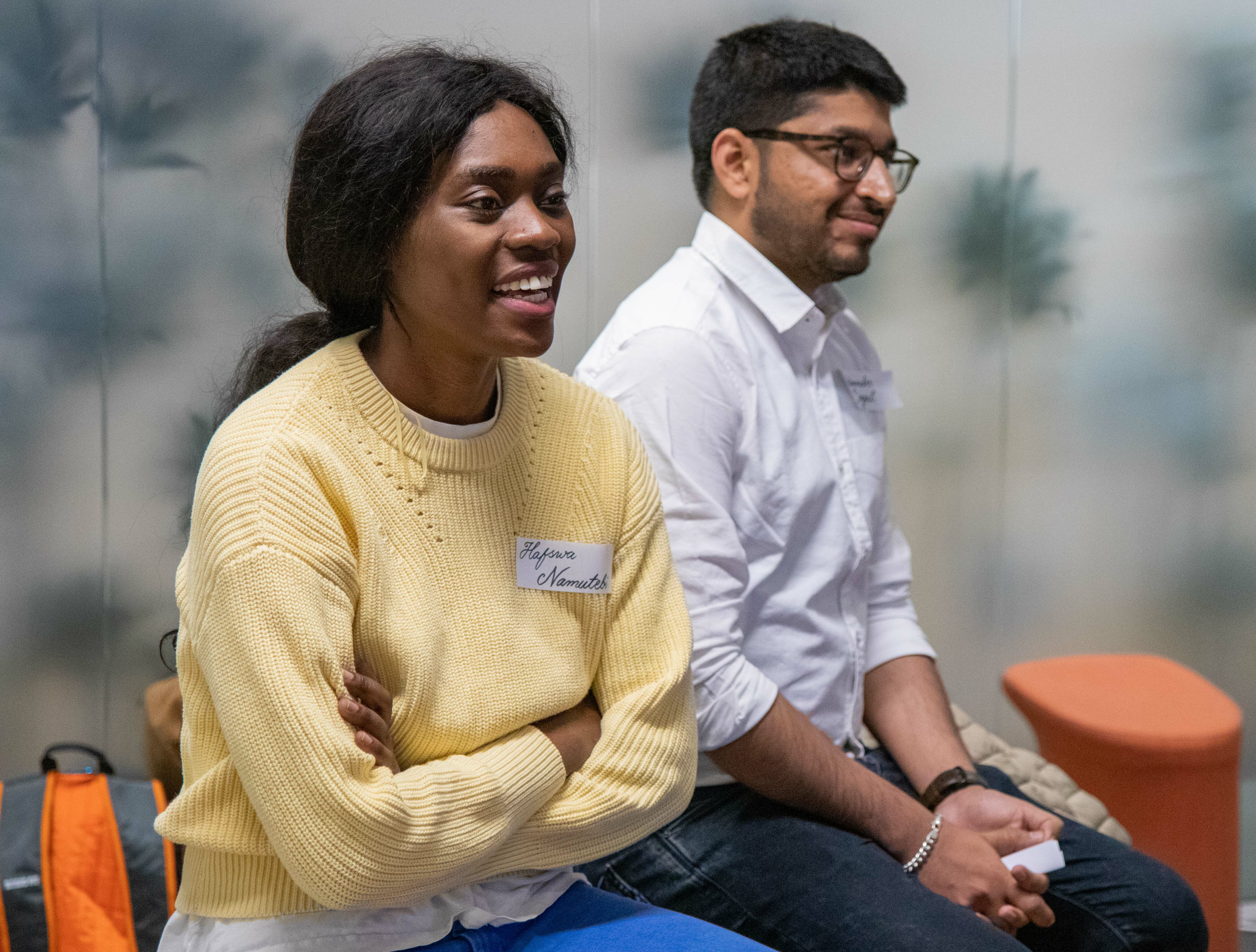 On World Refugee Day, AWS, Accenture, and Refugee Talent Hub are joining forces to help refugees in the Netherlands reskill into cloud computing careers.
At Amazon Web Services (AWS), we strongly believe in the power of skills training to positively impact peoples' lives. We're regularly reminded of that with our AWS re/Start program and we are glad to announce the launch of a new cohort in Amsterdam. In May, refugees from age 24 to 45 with diverse backgrounds, nationalities, and cultures—many of whom didn't have prior experience in technology—joined AWS re/Start, a full-time skills development program, which prepares them for a career in cloud computing. The program is one more way Amazon is helping meet its commitment to provide free cloud computing skills training to 29 million people around the world by 2025.
AWS re/Start prepares individuals with little or no technology experience to pursue entry-level cloud computing careers, such as technical support, systems administration, and cloud automation. Through real-world, scenario-based exercises, labs, and coursework, students build a range of skills in a number of technology areas, including Linux, Python, networking, security, and relational databases. Participants also learn to automate manual tasks, configure S3 consoles and monitor security logs, amongst other valuable skills.
For example, Hafswa Namutebi, an AWS re/Start participant who will graduate from the program this summer, was a marketing major and a nurse in Uganda before arriving in the Netherlands. Namutebi said, "I did not know a lot about cloud computing before, but what I have learned over the past month is unbelievable. It has been extremely valuable, and I will definitely continue learning about this field after obtaining my AWS Certified Cloud Practitioner certification, because we need more women in tech!"
In addition to providing individuals with foundational cloud skills, the program works with local and national employers who are looking for skilled cloud talent. Students receive practical support to move toward employment including resume and interview coaching, and the program connects more than 90% of graduates with job interview opportunities.
Offering opportunities to underprivileged individuals in the Netherlands with Refugee Talent Hub
For this new re/Start cohort in the Netherlands, AWS has joined forces with Accenture, a leading, global professional services company, and Refugee Talent Hub, a Dutch organization which brings employers and refugees together with paid employment as the main goal.
"AWS re/Start has the potential to unlock possibilities for refugees who are struggling to find job opportunities because of their distance to the labor market", explains Wilma Roozenboom, director of Refugee Talent Hub. "We see the program as an opportunity to break the so-called 'canvas ceiling'. It helps individuals to create a better future for themselves here, in the Netherlands. These people have so much to bring to our community, including working knowledge of many different industries and perspectives. Our job is now to help them to add to their existing skills, cloud expertise and learn the right soft skills to join the Tech market in Europe."
During the program, Refugee Talent Hub and Accenture will support students with integrated training that includes technical, behavioral and mindset skills, mentoring, social support services, job application training and interview preparation, and direct connections to employers. "Over the past few years, we have observed rapid adoption of cloud technology in the Netherlands, creating many exciting job opportunities, with strong career prospects for those who want to build a future for themselves in tech", says Charlotte van Thienen, HR director of Accenture the Netherlands. "Together with Refugee Talent Hub and AWS, we aim to build an inclusive, diverse pipeline of new cloud talent, ready for employment."
About the program
First launched in the UK in 2017, AWS re/Start is now in more than 40 countries and 100 cities. AWS re/Start is one example of how AWS is helping to equip people with the knowledge and skills to take advantage of the job opportunities being driven by cloud computing, and connecting customers and partners with skilled cloud talent. Additionally, AWS offers a number of training resources and programs such as AWS Academy, AWS Educate, AWSome days, AWS Tech Talks, and our AWS Free Digital Training platform to prepare anyone interested in learning about the cloud, pursuing a career in the field, or looking to continue honing their cloud skills.