Are you an engineer or technical consultant? Do you want to work for a top 3 engineering firm in the Netherlands with a significant international footprint? Do you speak business English and are you motivated to bring up your Dutch to a professional level as well? At Royal HaskoningDHV you will work in multidisciplinary teams and you will for sure never stop learning. So, do you want to enhance society together? Don't miss this opportunity and sign up now.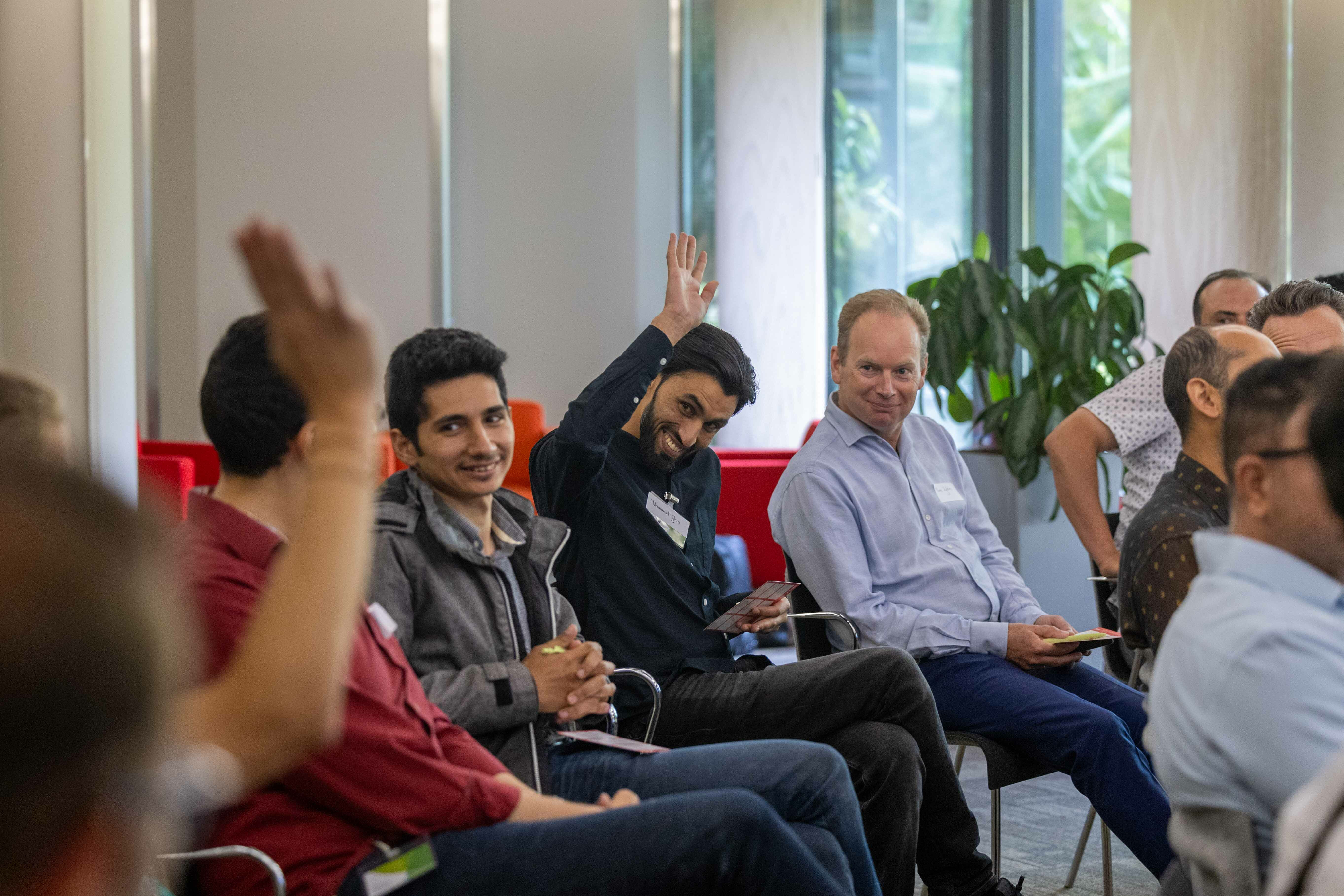 Introduction
Royal HaskoningDHV & Refugee Talent Hub are organizing a speed date for Refugee Talents. This speed date is organized by the business line Industry & Buildings and is specifically focused on:
Electrical engineers (high- & low voltage);
MEP Engineers (buildings, datacenters and industry)
Civil engineers (focus: industry- & chemical sites, factories, new energy resources; e.g. hydrogen);
Design: building engineers, constructors, modelers, parametric programming;
Technical consulting: Industrial health & safety, building services, energy, asset management, process industry and supply chain management.
Royal HaskoningDHV is a new partner of Refugee Talent Hub and already offers a complete program (language, hard & soft skills, buddies, coaching, and more) to facilitate a stable, secure, and above all a great place to work. There is enough room for you to develop, train, learn and work ambitiously together in front-running industry projects.
About the speed date
Before the speed date, we will prepare you in the best possible way by sharing tips & tricks and by helping you practice your pitch. During the speed date, Royal HaskoningDHV will tell you more about their company culture as well as their current projects. In addition, you will directly meet the business leaders and dive into your field of expertise. However, most of all, you will get to know each other and discover a potential match with the team and company culture. There will also be enough room to ask your questions and discover the current projects Industry & Buildings is working on.
The speed date will take place in Amersfoort at the Global Headquarters on September 7th, from 09.30 to 13.00 (a vegetarian lunch is included). Travel expenses will be compensated.
About Royal HaskoningDHV
Royal HaskoningDHV is enhancing society together through its people, expertise, partnerships, and innovations. They are pragmatic in integrating engineering and design knowledge, consulting skills, software, and technology to deliver more added value for their clients and at the same time ambitious in building a better society with improved people's lives. On a daily basis, you will contribute to the main challenges of today's world like sustainability, resilience & adaptability, and digital transformation. Royal HaskoningDHV is making an impact with a total of 6000 employees working worldwide in 140 countries. The Industry & Building business line is working in the Netherlands from multiple locations: Amersfoort, Amsterdam, Rotterdam, Nijmegen, Groningen, Eindhoven, and on some occasions Goes, Zwolle or Maastricht. You have the flexibility (and will be supported) to work from home. However, during your onboarding you will mainly work at one of the offices.
How do I register?
Interested? Sign up for this speed date now and don''t forget to upload your resume. The application deadline is 7 August 2022. If you have any questions about the program, you can contact us at info@refugeetalenthub.com. We hope that you will take advantage of this wonderful opportunity.
...…...….................................................................
Introductie
Ben jij een engineer of technisch consultant? Wil jij werken bij een top 3 engineeringsbureau in Nederland met een significante internationale footprint? Spreek je professioneel Engels en ben je gemotiveerd om ook je Nederlands op een professioneel niveau te brengen? Bij Royal HaskoningDHV werk je in multidisciplinaire teams en blijf je altijd leren. Royal HaskoningDHV is een nieuwe partner van Refugee Talent Hub en biedt al een compleet programma (taal, hard & soft skills, bud'dy's, coaching en meer) om een stabiele, veilige en vooral een geweldige werkplek te faciliteren. Er is genoeg ruimte voor jou om je te ontwikkelen, te trainen, te leren en samen te werken in toonaangevende industrie projecten. Dus, "enhancing society together"? Mis deze kans niet en meld je nu aan. Royal HaskoningDHV & Refugee Talent Hub organiseren een speeddate voor Refugee Talents. Deze speeddate wordt georganiseerd door de business line Industry & Buildings en is specifiek gericht op
Elektrotechnici (hoog- & laagspanning)
MEP Engineers/Adviseur: installatietechniek E of W
Civiel ingenieurs (focus: industry- & chemische sites, fabrieken, nieuwe energiebronnen; o.a. waterstof)
Ontwerp: bouwkundig, constructeurs, modelbouwers, parametrisch programmeren
Technisch adv dviseies: industrial health & safety, building services, asset management, energy, process industry en supply chain management
Over de speeddate
Voorafgaand aan de speeddate bereiden we je optimaal voor door tips & tricks te delen en je te helpen met het oefenen van je pitch. Tijdens de speeddate vertelt Royal HaskoningDHV je meer over hun bedrijfscultuur en lopende projecten. Daarnaast ontmoet je direct de teamleiders en duik je in je vakgebied. Maar vooral leer je elkaar kennen en ontdek je een mogelijke match met het team en de bedrijfscultuur. Ook is er voldoende ruimte om je vragen te stellen en te zien met welke projecten Industry & Buildings nu bezig is. De speeddate vindt plaats in Amersfoort op het Global Headquarters op 7 september 2023 van 09.30 tot 13.00 uur (inclusief vegetarische lunch). Reiskosten naar de speeddate worden vergoed.
Over Royal HaskoningDHV
Royal HaskoningDHV verbetert de samenleving door middel van mensen, expertise, partnerships en innovaties. Ze zijn pragmatisch in het integreren van technische- en ontwerpkennis, adviesvaardigheden, software en technologie om meer toegevoegde waarde te leveren voor hun klanten. Daarnaast zijn ze ambitieus in het bouwen van een betere samenleving voor iedereen. Dagelijks draag je bij aan de belangrijkste uitdagingen in de wereld van vandaag; zoals duurzaamheid, veerkracht en aanpassingsvermogen en digitale transformatie. Royal HaskoningDHV maakt het verschil met in totaal 6000 medewerkers wereldwijd in 140 landen. De business line Industry & Buildings werkt in Nederland vanuit meerdere locaties: Amersfoort, Amsterdam, Rotterdam, Nijmegen, Groningen, Eindhoven en soms Goes, Zwolle of Maastricht. Je hebt de flexibiliteit (en wordt ondersteund) om thuis te werken. Tijdens je onboarding werk je echter voornamelijk op één van de kantoren.
Hoe meld ik me aan?
Geïnteresseerd? Schrijf je nu in voor deze speeddate en vergeet niet je cv te uploaden. De deadline voor aanmelding is 7 augustus 2023. Als je vragen hebt over het programma, kun je contact met ons opnemen via info@refugeetalenthub.com. We hopen dat je van deze geweldige kans gebruik zult maken.