After a successful third edition, EY, KPMG, Nationale Nederlanden, Achmea and Refugee Talent Hub are working together to organize a fourth edition of the Finance Academy, a 14-weeks training program for financial talents with a refugee background.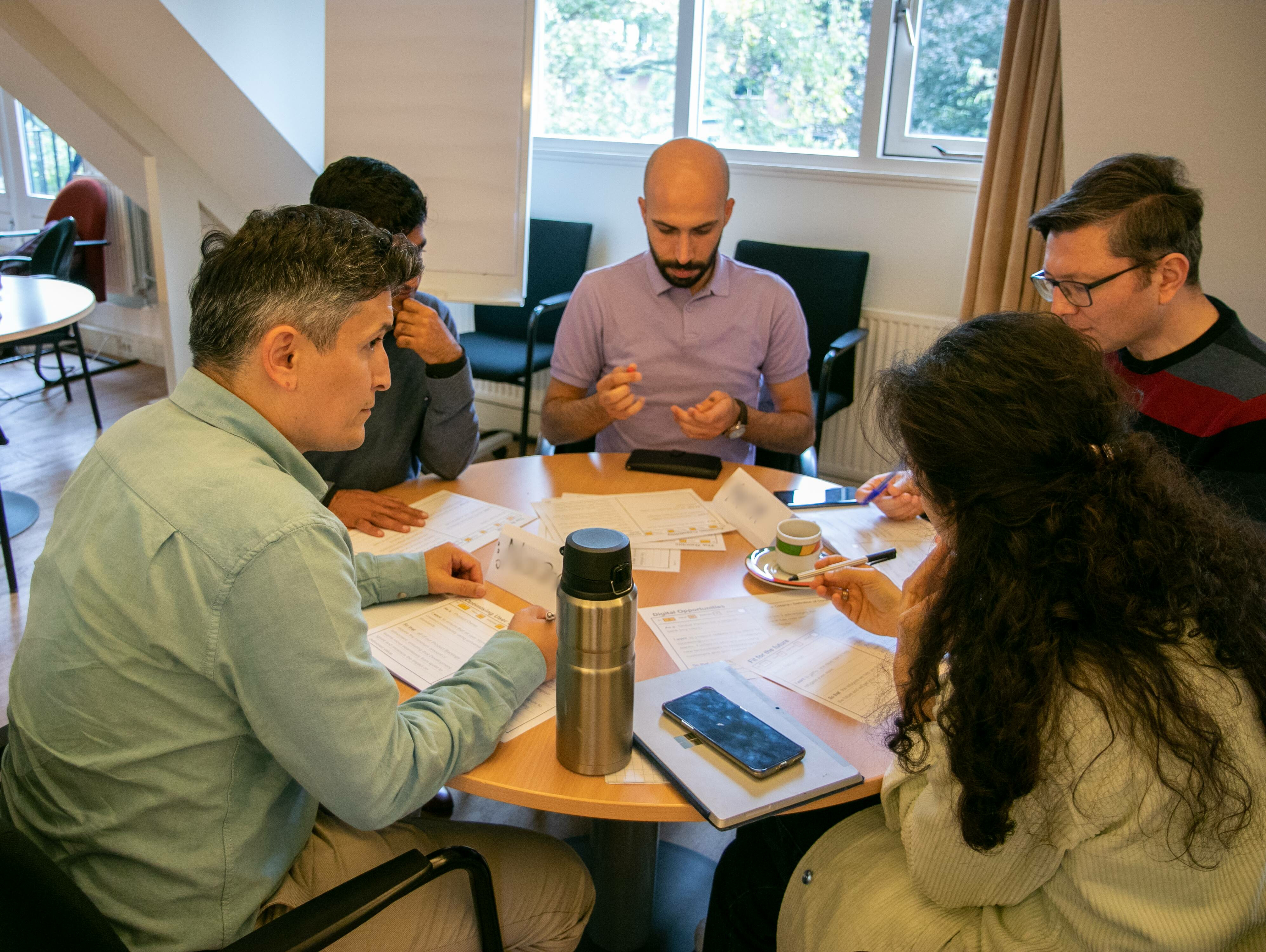 So, are you passionate about finance? Would you like to attend many useful finance workshops and increase your chances on the job market? Please sign up before August 13, 2023!
About the Finance Academy
This 14 week part-time program is a training on several useful financial subjects: Consulting, Auditing, operational Finance and Cash Management, Insurance etc. Every three weeks, one of the participating companies will host a weekly training on an interesting finance related subject; 12 training sessions in total. The Finance Academy consists of both hard skills and soft skills training. In addition to this training, you will receive individual coaching during the entire program from a professional of one of the participating partners.
At the end of the program, you will receive a certificate of participation provided by EY, KPMG, Nationale Nederlanden, Achmea and Refugee Talent Hub. Important to know: This program will be held in English. So, speaking English proficiently is a must.
Who are we looking for?
We are looking for motivated talents who:
Hold a bachelor's or master's in - or closely related to - finance; for example in accounting / finance / risk management/ insurance;
Are proficient in English (Level B2)
Are passionate about finance
Preferably have working experience in finance or finance-related businesses; for example in accounting / finance / risk management/ insurance;
Are eager to learn. Note that a strong internal motivation is the key to success in this program.
Are available to attend all the obligated events (for dates, see below).
Are a statusholder (have a residence permit)
Note:
The training is based on retaining of the benefits (uitkering)
The program as well as the learning materials are in English
The travel costs are (partly) covered.
Important data
If you apply, we expect you to attend ALL events below. Please make sure you are available on all these dates.
Information session: Tuesday 5 September, 10.00 - 11.00 (online). Selected candidates will participate in an information session where they will get more in-depth information about the program.
Kick-off: Tuesday 12 September, 15.00-18.00 (live, Amsterdam). During the festive kick-off, you will be told who you are linked to, and the goals of the Finance Academy will be discussed.
Cultural Awareness training: Monday 9 October, time TBD
Check-in mentees: Thursday 2 November, 13.00-14.00 (online). This is intended to share experiences and questions with your peers/ fellow candidates under the guidance of Refugee Talent Hub.
Recruitment + Pitch training: Monday 6 November, 10.00-17.00 (live, The Hague)
Closing event: Thursday 21 December, 15.00-18.00 (live, Amsterdam)
Selection and process
For this program a selection will take place. There are limited spots available. Only candidates who have not participated in a previous Finance Academy can apply. A maximum total of 20 talents will be selected to participate.
The deadline for the registration is: August 13, 2023. Please do not forget to add your CV to your profile. After you have applied and if you meet the criteria, we will ask you for more information by email before making the selection.
Please note! If there are many more registrations than places for the activity, we could close the activity earlier than the aforementioned date.
About the participating companies
EY
EY is a worldwide organization, through our four integrated service lines — Assurance,Consulting, Strategy and Transactions, and Tax — and our deep sector knowledge, we help our clients to capitalize on new opportunities and assess and manage risk to deliver responsible growth. Our high-performing, multidisciplinary teams help them fulfill regulatory requirements, keep investors informed and meet stakeholder needs. We believe a better working world is one where economic growth is sustainable and inclusive. We work continuously to improve the quality of all our services, investing in our people and innovation. And we're proud to work with others – from our clients to wider stakeholders – to use our knowledge, skills and experience to help fulfill our purpose and create positive change.
KPMG
KPMG Netherlands is part of a large international network of professional accountancy and consultancy firms. We offer high-quality services in the areas of Audit and Advisory. As overseers of economic traffic, our accountants provide confidence when it comes to information. Our advisers develop sustainable solutions for tomorrow's economy. KPMG NL uses technology based on human insight and creativity to develop advanced solutions for the economy of tomorrow. With over 3,500 employees, we are a center of knowledge, expertise, and independent thinking. As part of our social impact we deploy the knowledge and the skills of our professionals. In that way, KPMG actively contributes to improving the employment and income prospects of various groups
Nationale Nederlanden
Nationale-Nederlanden is a financial service provider that offers products and services in the field of insurance, pensions and banking activities to more than 6 million private and business customers in the Netherlands. For more than 175 years, their employees have been helping people take care of what really matters to them. Nationale-Nederlanden is part of NN Group, an international financial services provider active in 18 countries and leading in a number of European countries and Japan.
Achmea
Achmea is one of the largest financial service providers and one of the largest insurers in the Netherlands, and their motto is Sustainable Living Together. Together with its customers, strategic partners and other relations, it solves major societal issues related to health, living & working, mobility and income. In this way, it creates sustainable value for its customers, its employees, its company and the society. Previous generations could count on Achmea. Future generations can do the same. Achmea employees work from home and from their office locations. These are in Leeuwarden, Apeldoorn, Zeist, Amsterdam, Leiden and Tilburg.