Due to a large number of registrations, we had to close registrations earlier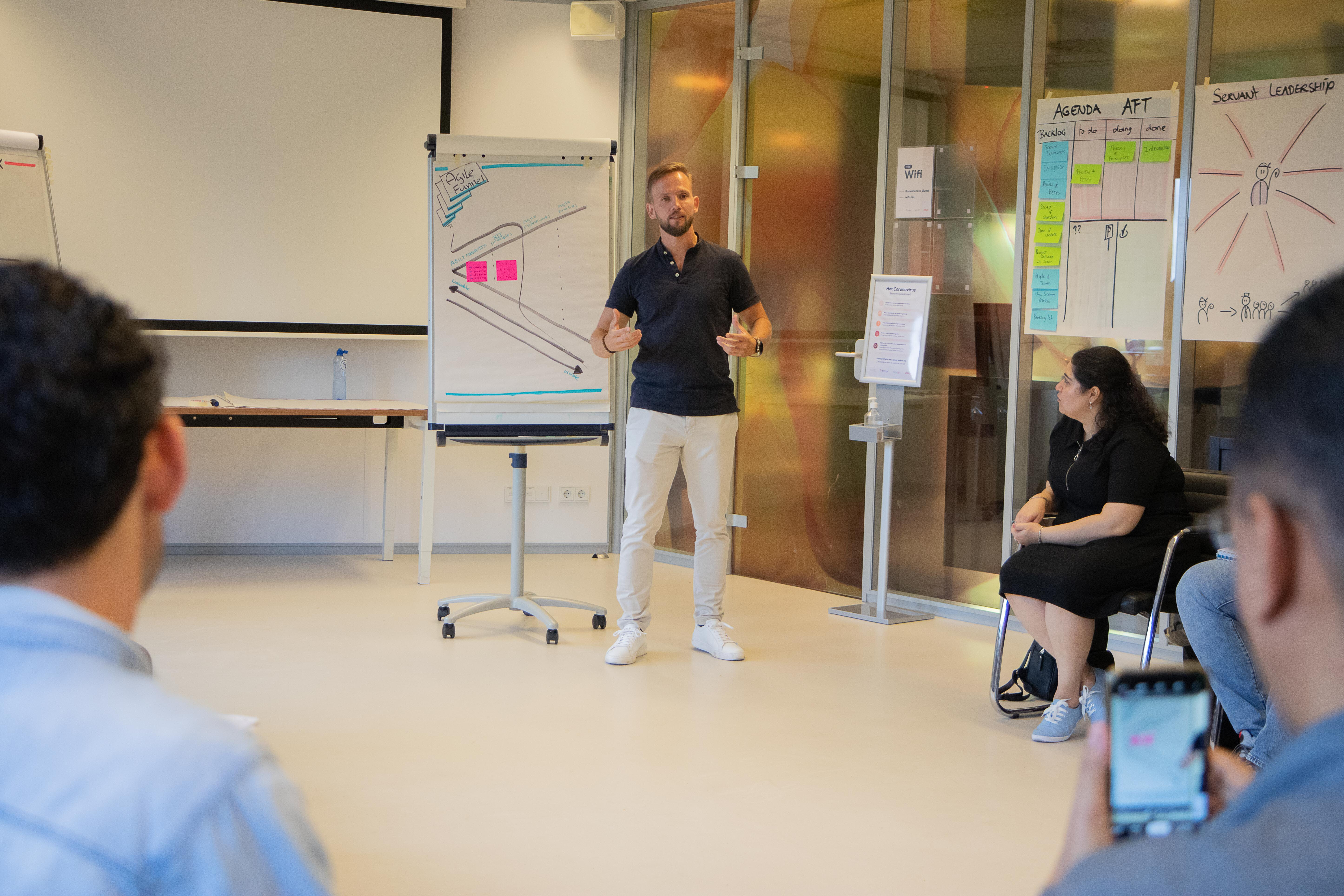 Prowareness and the Refugee Talent Hub are hosting a course on Agile/Scrum working. Across all different kinds of industries, the Agile mindset is increasingly adopted within organizations. Do you want to receive professional training from the Prowareness Agile Academy? Do you want to learn more about the Agile/Scrum way of working and become a certified Scrum Master (PSM1)? Apply now!
About Agile and Scrum
The Agile way of working is an increasingly adopted approach within project management as well as the development of products and services in this fast-changing world. The main focus is on delivering value frequently to the customer and continuous improvement. Scrum is the most common framework and it uses a series of shorter product development cycles to increase customer value, improve quality and increase self-managing. This way of working promotes continuous integration, rapid development, and continuous delivery.
About Prowareness
Prowareness is the Dutch expert on Agile training courses, workshops and consultancy. Whether you want to become a professional Scrum Master, Product Owner, Agile Coach or Agile leader and/or your organization needs assistance in your Agile transformation. With over more than 100 training courses and a team of 80+ well experienced certified trainers and coaches/consultants, we help organizations learn and grow. Prowareness Agile Academy is considered to be one of the best Agile training institutes in the Netherlands, being certified training partner of Scrum.org, Scaled Agile, Kanban University, LeSS, DevOps Institute and APMG-International. Read more about Prowareness here.
About the trainers
The training sessions, course materials and examination will be provided by professional trainers from Prowareness, who will share their extensive knowledge and experiences with regard to Agile and Scrum. Course outline (September 4th – September 8th):
September 4, from 10.00 - 17.00 pm (in Delft or Den Bosch): Training 1

September 6, from 10.00 - 17.00 pm (in Delft or Den Bosch): Training 2

September 8, from 10.00 - 11.30 am (online): Exam prep and Q&A
What do we expect from you?
After registering, you will receive a google form that you must fill in on time!
You are eager to learn more about Agile/Scrum
You are planning to work with Agile/Scrum in your next career steps.
You are motivated and committed to getting a PSM 1-certificate and are willing to do the necessary self-study during the course (around 2/3 days)
You are available for the full training program from the 4th of September until the 8th of September: 2 full-day training sessions, 1 exam prep session, 1 exam moment
You will share your CV and are able to explain more on why you would like to learn more about Agile, and how you plan to apply it in your next career steps.
You can demonstrate that you have an intermediate English level that allows you to follow the course and course materials. Preferably B2 or C1.
You have a residence permit in the Netherlands
You are willing and financially able to travel to a training location in the region of Delft or Den Bosch, travel costs are not reimbursed and the training sessions cannot be followed online
Interested? Apply now!
When we have received your CV, Prowareness and the Refugee Talent Hub will collectively select candidates as there will only be limited spots available in the course. The deadline for application is July 18. Please keep in mind that if we have received enough applications, we will close the recruitment earlier.